Pinched ankle alert!
I woke up this morning and stepped out of bed…..
When bam!
My right foot wouldn't work.  Yes, I could stand on it.  Yes, I could walk on it.
It just wouldn't allow me to walk THROUGH my foot.  I apologize for not being clear, this is a hard one to describe.
Have you ever started walking like a Clydesdale horse after sitting or sleeping for a prolonged period of time? You can't smoothly roll your heel to your toes when you walk on your foot?
It freaking hurts like the dickens!  On a side note, I wonder how the dickens hurt?
The ankle is made up of three bones: your 2 lower leg bones the tibia (white bone) and fibula (blue bone), and the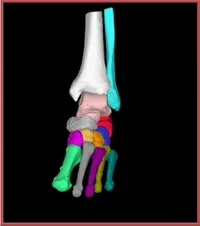 talus bone (mustard yellow).
The talus functions like a marble running down a track. If the track gets dented anywhere then the marble does not roll, correct?
This is how the ankle joint works. Please look at the graphic to the right for a visual.
Imagine if you slept on your stomach the whole night the foot would be held in a pointed position, like when you can see all the toes on the graphic.  It literally gets stuck in that position, so when you go to stand up…..
BAM! It can't because it is stuck in the pointed position.
To fix it is super easy we need to get that bone back into place.  Please watch the video attached below.
Take a belt, scarf, rope and tie the ends together.
Place the knot into a doorway and close the door.
Step your hurt foot into the rope, so the rope runs in front of the ankle joint.  Make sure your foot is nice and snug with the rope applying a firm pressure along the front of the ankle.
Place your other foot slightly in front to prepare to do a mini-lunge.  SLowly bend your forward knee forward and back.  Keep your back (the hurt foot) knee straight the whole time.
You can hit different aspects of your ankle by moving which way your foot is pointing.  You can hold onto a chair or your bed if your balance is not the best.
Do about 10-20 times at about 1 lunge every 3-4 seconds.  You can repeat this exercise as needed throughout the day until the mobility has returned!
This is also great for anyone with stiff ankles, plantar fasciitis, chronic ankle sprains (not within 8 weeks of injury), and ankle swelling.
Please do not do this technique on any active or recent fractures in your foot or ankle.
Simple explanations and more for your pain in future posts.
I purchased the neatest journal this week.  It was labeled, "Some Lines a Day" instead "Diary.  The great thing about this journal is that it gives each page a date assignment, for example, September 1st.  Then it has five lines evenly spaced out on the page about 1 inch apart.   So, you can jot down ideas, funny things that happened that day and reflect back for the next five years on that particular memory.  I think this would be a great journal for my patients that are having a difficult time either physically or psychologically.  It is good to write down three positive things that happened to you, each day whether it be as simple as getting a pleasant letter in the mail or getting more than 50% of green lights on the way home from work or completing all the laundry today.  Whatever the case….reflecting on the positive! It can make a world of difference and help quiet your mind. 
Please check out my Video about Pelvic Pain and How to Correct Pelvic Alignment: